Home Weatherization Program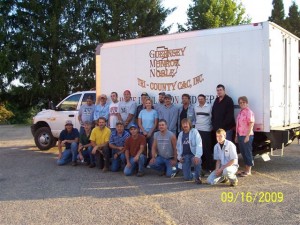 The GMN Tri-County CAC Home Weatherization Assistance Program (HWAP) performs weatherization measures for low-income individuals residing in Guernsey, Monroe, and Noble counties.
Weatherization projects allow low-income families to save money by making their homes more energy efficient, which results in average savings of 32 percent for heating bills and savings of hundreds of dollars per year on overall energy bills.
HWAP also works in partnership with Columbia Gas and American Electric Power, to assist income eligible persons with making homes energy efficient in other ways.
The Ohio Office of Community Assistance (OCA), part of the Ohio Department of Development's Community Development Division, will work with 35 sub-grantees to implement its program across all of Ohio's 88 counties. OCA will also work to preserve and enhance the state's long-term capacity to perform weatherization activities. In order to support the program's economic recovery goals, as contractors are hired, disadvantaged businesses will be offered opportunities to bid on and receive weatherization work. The Ohio Home Weatherization Assistance Program (HWAP) will ensure that green building technologies, such as Leadership in Energy and Environmental Design (LEED) and renewable energy technologies, are incorporated into weatherization activities with other housing rehabilitation and neighborhood revitalization efforts, such as the Neighborhood Stabilization Program.
The results of an independent evaluation of Ohio's Weatherization Program concluded the following:
A series of evaluations has been completed for the Ohio Home Weatherization Assistance Program (HWAP) covering the program's impacts, processes and training. The impact evaluation concluded that Ohio has one of the most successful programs in the nation in terms of energy savings when compared with recent studies from other states.

Regarding the process, the evaluation said: "The Program's services are delivered in a cost-effective and efficient manner. High levels of client satisfaction further support the success of the Program. Over the years, the Program has been responsive to changing technical and market conditions."

The training evaluation looked at the operations of the Ohio Weatherization Training Center (OWTC), which has trained weatherization personnel statewide for 15 years. Noting that Ohio's HWAP training requirements are probably more rigorous than those for any other weatherization program in the country, the evaluation found that the OWTC possessed the most important building blocks for a solid, ongoing, and effective program.

Sources: Ohio Department of Development , U.S. Department of Energy
Guernsey, Monroe, and Noble HWAP plans to insulate over 300 homes in the next two years. HWAP applications are available at the GMN Tri-County CAC, Inc. corporate office located in Caldwell and also Neighborhood Service Centers in Monroe and Guernsey counties. If you have questions concerning our services please feel free to call the HWAP office at 740.732.2388.
(800) 848-1300 – Consumer hotline – call if you have questions or concerns regarding Ohio's Home Weatherization Assistance Program.